Entrust Yourself to God's Care!



"Cast all your anxiety on him because he cares for you.
Be alert and of sober mind. Your enemy the devil prowls around like a roaring lion looking for someone to devour.
Resist him, standing firm in the faith, because you know that the family of believers throughout the world is undergoing the same kind of sufferings.
And the God of all grace, who called you to his eternal glory in Christ, after you have suffered a little while, will himself restore you and make you strong, firm and steadfast.
To him be the power for ever and ever. Amen."
(1 Peter 5:7-11 NIV)
A difficult time seems more bearable when we know that it is limited. Also 2 Corinthians 4:17 speaks of a "time of suffering" that we have to go through, which is relatively "short" compared to the immeasurable good that comes afterwards:



"Our troubles are small. They last only for a short time. But they are earning for us a glory that will last for ever. It is greater than all our troubles."
(2 Corinthians 4:17 NIRV)
How long will this tribulation or distress last? How long is "of short duration"?
In various places in the Bible book of Revelation, there is mention of a persecution period of
three and a half times (Revelation 12:14) or
42 months (Revelation 11:2, Revelation 13:5) or
1260 days (Revelation 11:3).
If you count 30 days per month, all of these time spans are three and a half years long. Also the end-time vision, which the prophet Daniel received about two and a half thousand years ago, already mentions the time span of three and a half years, even twice:



"[This endtime King] ... will speak against the Most High and oppress his holy people and try to change the set times and the laws. The holy people will be delivered into his hands for a time, times and half a time. (*Footnote: Or "for a year, two years and half a year")"
(Daniel 7:25 NIV)
"The man clothed in linen, who was above the waters of the river, lifted his right hand and his left hand towards heaven, and I heard him swear by him who lives for ever, saying, 'It will be for a time, times and half a time. (*Footnote: Or "for a year, two years and half a year")"
(Daniel 12:7 NIV)
Wild Theater on the World Stage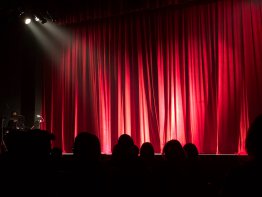 Foto: Monica Silvestre, Pexels
What lies ahead of us in these (probably) three and a half years, dear brothers and sisters? We don't know when exactly they will begin, but one thing is certain: It will be a time of full control, a great play, whose chapters, scenes and performances God has long since outlined and outlined for us (among other things in Revelation, the last book of the Bible).
We are to bow down. But we do not bow. As God's adopted children, we make no violent resistance, but with His help we develop within ourselves the gentle, relentless inner strength that was also Christ's own.
Those who do not bow and join the Beast-like system of domination will be "neither able to buy nor to sell" (Revelation 13:17). What will be left?
Barter,
Stockpiling,
Self-sufficiency,
Mutual aid –
and the real possibility of miracles. Yes, miracles. We'll get to that later.



"For our light and momentary troubles are achieving for us an eternal glory that far outweighs them all.
So we fix our eyes not on what is seen, but on what is unseen, since what is seen is temporary, but what is unseen is eternal.
(2 Corinthians 4:17-18 NIV)
Lovingly, urgently, our Lord Yahusha (Jesus) Himself admonished in the Sermon on the Mount that we should never worry about having enough to eat, drink, and wear, concluding:



"But seek first the kingdom of God and his righteousness [the unvisible things], and all these things [the visible things, such as food, clothes, ...] will be added to you. Therefore do not be anxious about tomorrow, for tomorrow will be anxious for itself. Sufficient for the day is its own trouble."
(Matthew 6:33, 34 ESV)
And mockery and dispossession?
Even defamation or the robbery of our possessions (an actual material loss, theft or confiscation) seem like a good swap if we manage to change our perspective:



"Sometimes people spoke badly about you in front of others. Sometimes you were treated badly. At other times you stood side by side with people being treated like this. You suffered along with people in prison. When your property was taken from you [the visible things], you accepted it with joy. You knew that God had given you better and more lasting things [the invisible things]."
(Hebrews 10:33-34 NIRV)
God Will Give You Everything



"So don't throw away your bold faith. It will bring you rich rewards.
You need to be faithful. Then you will do what God wants. You will receive what he has promised.
'In just a little while, he who is coming will come. He will not wait any longer.'
And, 'The one who is right with God will live by faith. And I am not pleased with the one who pulls back.'
But we don't belong to the people who pull back and are destroyed. We belong to the people who believe and are saved."
(Hebrews 10:35-39 NIRV)
Now we come to the trump cards that only Yahuwah God (YHWH) and our heavenly King Yahusha (Jesus) can play: Miracles.
If you ever get a queasy feeling, open the following texts in your Bible and read them aloud. They show the power of God, and are fine examples of His inventive solutions.
Food "from nothing":
The people of Israel are fed for 40 years by manna from heaven, and no one lacks, everyone is filled. (Ex. 16:14-18)
In the middle of the desert, an angel serves the exhausted, desperate prophet Elijah a round, freshly baked cake that gives him strength for a 40-day trek. (1 Kings 19:6-8) (We wish we had this cake sometimes, too!).
Use of animals:
Elijah is told to hide by the brook Krit and is fed by ravens at God's command, who regularly drop pieces of bread and meat for him. (1 Kings 17:2-6)
Outreach of compassionate fellow human beings:
Jeremiah lives in a besieged city that is starving, yet he is reliably provided with food until the end:



"Then Zedekiah the king commanded that they should commit Jeremiah into the court of the prison, and that they should give him daily a piece of bread out of the bakers'street, until all the bread in the city were spent. Thus Jeremiah remained in the court of the prison."
(Jeremiah 37:21 KJV)
Identical reduplication:
Elijah at the widow in Zarephath: the large jar of flour and the small jar of oil are not emptied, and they eat of them with several people for months. (1 Kings 17:8-16)

Jesus divides and multiplies 5 barley loaves and 2 broiled fishes, so that more than five thousand people are filled with them, and there is even a surplus of 12 baskets full left over! (John 6:9-13)
... And Lots of Other Wonders
These are just some of the food miracles. In addition
Chains were loosened,
Locks were picked,
Doors opened,
Enemies struck with blindness, ...
God is a specialist in rescue from hopeless situations. And even if death reaches us, even that will be temporary, because through our faith and trust in Yahusha ha-Mashiach (Jesus Christ) we have already "passed on to life" and will be resurrected by Him (John 5:24-28).
Our life is already certain.
Conclusion:
If Almighty God Yahuwah and His empowered King Yahusha are for us – who will be against us? (Romans 8:31)
No one can snatch us out of their hand:



"My sheep hear my voice, and I know them, and they follow me.
I give them eternal life, and they will never perish, and no one will snatch them out of my hand.
My Father, who has given them to me, is greater than all, and no one is able to snatch them out of the Father's hand."
(John 10:27-29 ESV)
Their possibilities are limitless, because they are the masters of space and time, of energy and matter. And they have promised to always stand by us in temptation and give us exactly what we need right now:
Inner strength to stand firm even when "the sword" threatens, (Revelation 13:10) or
Confidence to persevere even when we suffer "captivity," or
A miraculous way out, to turn things around and set us free.
Jesus Christ assured His followers that God would "limit and shorten the tribulation period for the sake of His elect" and that there would be a "vast multitude" of survivors of the tribulation period. (Matthew 24:22 and Revelation 7:9, 14).
Both of these presuppose that the Father and Son have us firmly in view at all times. A beautiful thought.



"No temptation has overtaken you that is not common to man. God is faithful, and he will not let you be tempted beyond your ability, but with the temptation he will also provide the way of escape, that you may be able to endure it."
(1 Corinthians 10:13 ESV)
Practice, Practice, Practice ...
Let us pray for it already now! Let us practice the trust in God and the change of the point of view,
Let us put on "God's glasses" more and more often, so to speak, and let us focus on the invisible again and again!
Let us build on an unshakable faith! (Matthew 7:24, 25)
Let's let ourselves fall into God's hand. Let us entrust ourselves to God's care!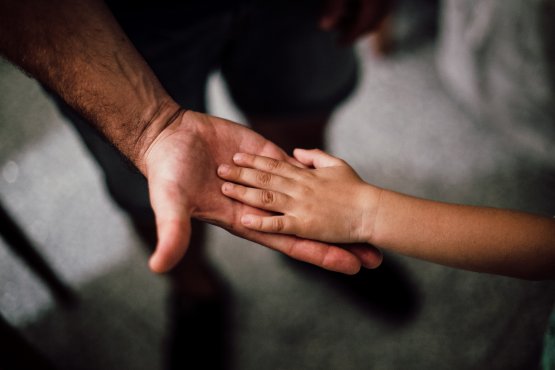 Foto: Juan Pablo Serrano Arenas, Pexels